If you want to try ESO and are unsure about its various versions, here are all the editions and clarifications we could find to help you choose and get the best value for this fantastic game.
Over the years Elder Scrolls Online has grown significantly and now has a lot of additional content. Let's break down the difference between base game, DLCs, and chapters:
Base game is what released originally in 2014 and includes the Alliance zones, Craglorn, Cyrodiil PVP zone, and Coldharbour.
DLCs are smaller expansions that contain either a small zone or a pair of dungeons. As of February 2023, there are 22 DLCs in ESO, of which Imperial City DLC is free.
Chapters are big expansion packs that come out once a year, and excluding Necrom there are 6 of those right now. Chapters have a larger zone to explore and include a new system that isn't available in the base game, for example a new class.
 As of the first half of 2023, when you are buying ESO as a new player, you are offered 3 different bundles. The standard Edition consists of base game, the Morrowind chapter and does not include any other chapters or DLCs. The High Isle edition includes base game and all currently available chapters. The Necrom edition includes base game, all currently available chapters and the upcoming chapter.  Some time after the Necrom chapter releases as an update to the game, the High Isle edition will be removed and becomes a part of all the other chapters in the game's history.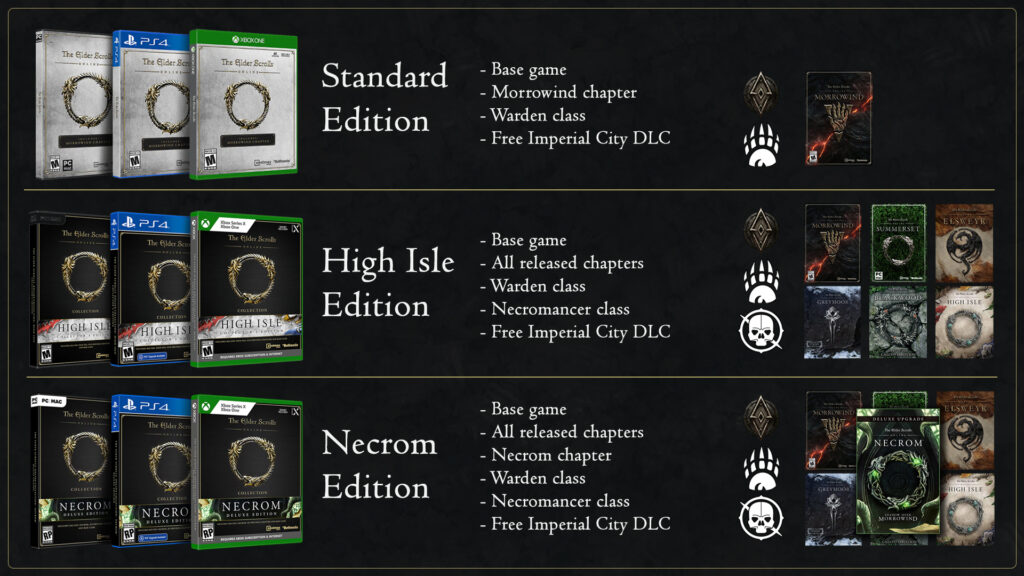 None of the aforementioned bundles include the many DLCs that ESO has. Those can be accessed in two ways: by purchasing separate DLCs or DLC bundles with crowns or by getting the monthly subscription, ESO+ . It not only grants access to all the DLCs released so far, but also gives you all the chapters released previous to the current and upcoming chapters. ESO+ does not grant access to Warden, Necromancer and Arcanist classes. High Isle and Necrom chapters are also not currently available through ESO+.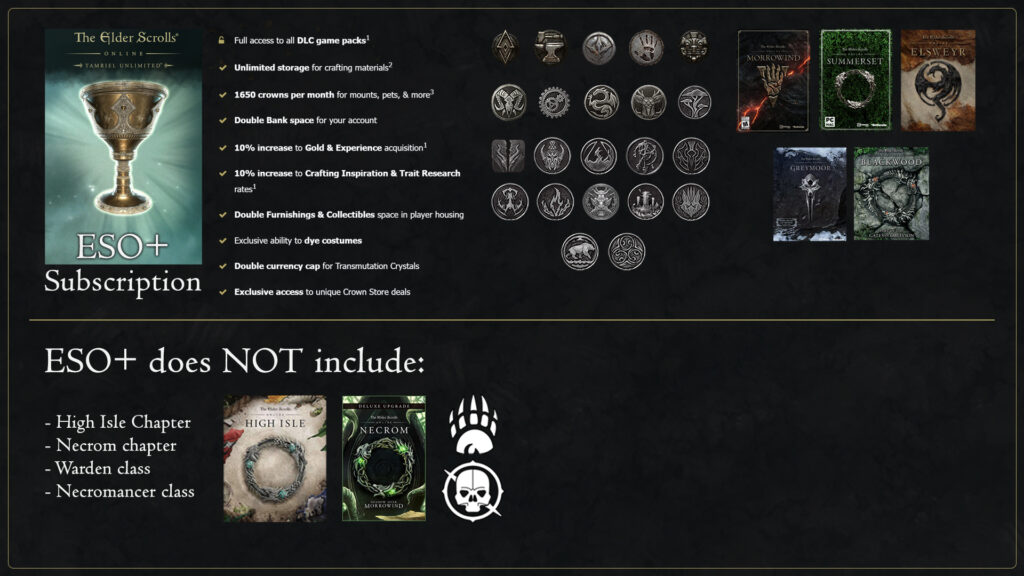 Alternative Editions and Notes
Some more versions and extras of ESO to be aware of:
Upgrade gives you access only to the chapter you are buying, while Collection includes that chapter and all that came before it.
There's a distinction between Collection edition and Deluxe (Collector's) edition:
Collection – includes all previous chapters;


Deluxe (Collector's) – 

includes all previous chapters and

features some extra items such as mounts, pets and other cosmetics.

For PC, ESO is available on Steam and through Elder Scrolls Online website. For Xbox, ESO is also included in the Gamepass, but this is only the base game without any chapters. You can claim the Morrowind chapter for free in the crown store, but this does not include the Warden class.
Although Imperial City DLC is now free to claim in the in-game Crown Store, Imperial race is not included in it. To play as an Imperial, you need to purchase the Digital Imperial Edition Upgrade. 
There's no crossplay between PC, Xbox and Playstation. If you want to switch platform, you need to purchase the game again and start from scratch. PC version of ESO is regarded as the best one mainly due to access to QoL addons. 
You do not need to pay for new versions in ESO. As the game updates, you can simply keep playing without needing to purchase any new content unless you want to.